It has felt almost like the Monsoon when the rain finally arrives. After such a long, dry spell with heat and brown grass, rain is appearing. Relief to wake up and hear rain on the roof or gurgling in the gutters. Water butts finally getting replenished and the ground is getting a brief drink.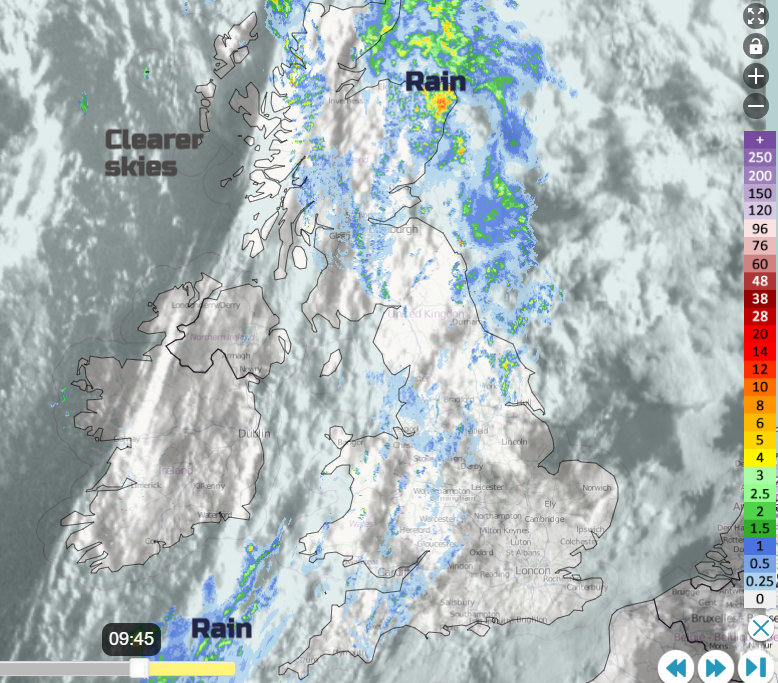 There is more frontal rain today, and on Thursday which looks to move over SE Britain. The UK continues with its Atlantic flow and mess of weather fronts with low pressure nearby. As the weekend starts, high pressure begins to build in from the southwest. That would often bring hope of more settled, steady conditions with dry weather. However, weather fronts are still managing to work their way over parts of the UK at the weekend with some showery outbreaks on Saturday and more persistent rain for western then northern Scotland on Sunday.
Many places will see fair weather, warm sunshine and stay dry but it's not reliable looking at the UK as a whole.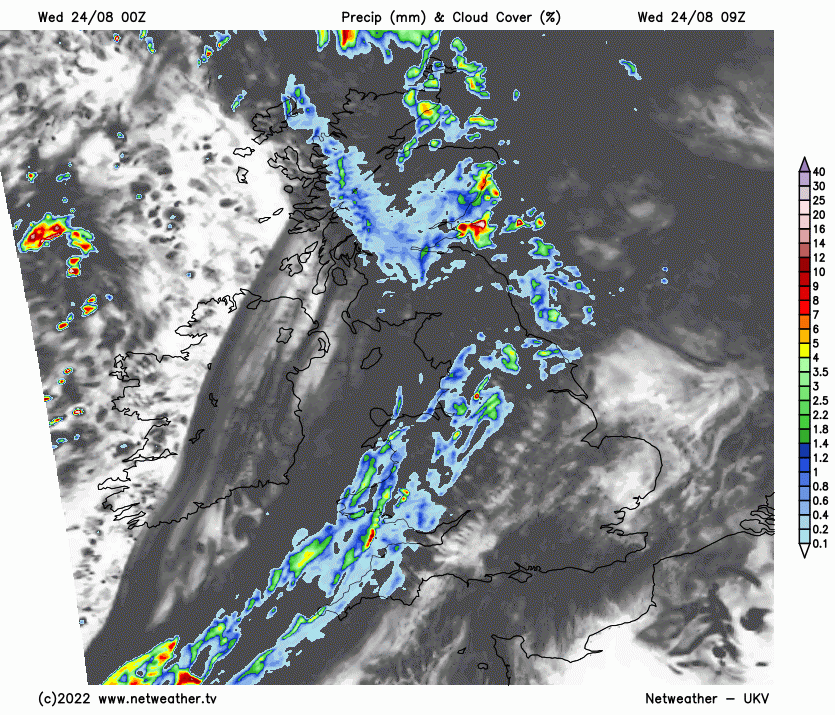 Today we will see heavier pulses of rain moving up from the southwest this afternoon and then over Wales and the Midlands towards the North Sea through the evening. Overnight a scattering of sharp, even thundery showers for East Anglia and through the English Channel before another larger cluster of heavy showers and rain reaches up to SE England. Through Thursday morning rush hour there could be clusters of heavy, thundery downpours, surface water and spray with poor visibility as this pulse pushes up through East Anglia. The area is crying out for rain.
Yesterday temperatures rose into the mid-twenties with the top UK temperature being 28.6C in West Suffolk. It will be very warm again for East Anglia and much of SE Britain today, even hot in London at 30C with a humid, muggy feel. Tomorrow, with a northerly breeze on Thursday and more cloud, a change for Norfolk, Suffolk and Kent, feeling fresher. Today there will be a south-westerly wind with a band of cloud and showery rain stretching from Cornwall up to Aberdeenshire. To the SE of this will be the very warm, muggy air and more sunshine. Also brightening up late afternoon for Scotland.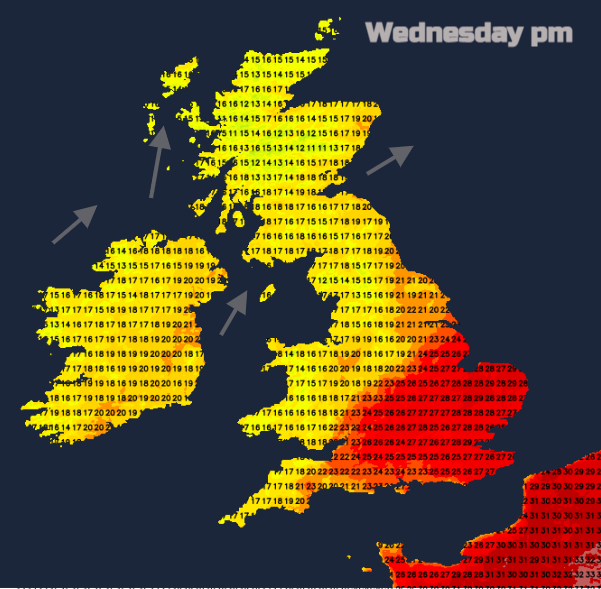 Depending on the pulses of heavy rain tomorrow along the frontal weakness it looks like central southern England will see temperatures in the mid-twenties but not as warm as other days for many. This interrupts the run of high temperatures which would qualify for an official heatwave. For the rest of the week, the mid-twenties look to be the peak of the warmth.
"An incredible new record has been confirmed by the UK Met Office" after receiving monthly gathered data from one of their stations. Some observation points send in a continuous feed of data, others are checked hourly or every 24 hours- often at 9Z. Some are only visited monthly and if there is a provisional record a team from the Met Office has to visit and verify the enclosure conditions and equipment.


Previously the daily 09-0900 minimum temperature was 23.3C for July (29th 1948 in St James's Park. London) and 23.9C for any month (3rd Aug 1990 in Brighton). Shirburn Model Farm in Oxfordshire recorded 26.8C on Tuesday 19th July in the first Extreme Heat event of this summer. The new record minimum has now increased by 3.5C for July and by 2.9C for any month in the UK.
The weekend update is due on Wednesday afternoon as usual but there are signs of warmth, even heat, for Bank Holiday morning, away from the east coast where there will be a wind off the North Sea, particularly for south-eastern Britain.