You are here: Influencer Marketing Hub » Social Media » 9 Instagram Growth Strategies to Grow Your Following
When creating a marketing strategy, you don't want to be sharing content with the void. You need to build an audience of engaged followers who love your content.
But where do you start?
Understanding top Instagram growth strategies can help your brand increase followers and reach a much wider audience. To help you get started, we've got nine excellent strategies you can work on implementing today.
Ready to dig in?
You may have heard this adage before with regards to social media marketing: consistency is key.
And that's because it's so important to keep in mind with any strategy. Because each social media platform has an algorithm that decides who sees what content, you need to post consistently if you want to see any kind of reach.
If you're only posting once every couple of weeks to your Instagram account, you're not going to reach the same kind of audience that you would if you're posting each day.
Stay consistent, but also stay frequent. If you're going to have a presence on Instagram, it needs to be regularly updated so the algorithm knows you have an active account that your followers might want to check out.
There are so many different content types and content formats to share on Instagram.
For example, you'll want to post to your feed once a day or so, but you should also be creating Instagram stories and reels that give your audience even more great content to engage with.
But what should you post? Keep it interesting by creating a wide variety.
Here are a few great examples of what you should be posting on Instagram:
Another popular type of content on Instagram is taking a screenshot of a tweet (either one your business posted or one that someone else posted about your business) and pasting it against a colorful background to share on Instagram.
Take a look at this example to see what we mean:



One major Instagram growth hack is influencer marketing. Influencer marketing involves finding relevant influencers, reaching out to them, and creating a campaign for how they can promote your business.
There are a few different ways to find the best influencers to partner with. First, you can take the time to explore the platform and find influencers with a similar target audience as you.
For example, there are lifestyle influencers, mom influencers, fitness influencers, etc. Pay attention to their main talking points and the demographics of their followers to see if it would make sense to have this person promoting your product.
The next step is to reach out about a potential partnership. Most influencers have a direct email or their agent's email listed in their bio, making it easy for you to reach out about working together.
After your initial outreach, you'll receive a media kit with packages and pricing information. Keep in mind that if you have a lower budget, you're going to want to reach out to influencers with a smaller following.
Then, you can work together on what this influencer campaign should look like. Will you send free product? Will they attend your place of business?
Talk about the best ways they can show off your product—but make sure you still give them creative freedom so the content fits in with what they typically post.
Here's an example of a partnership between a lifestyle influencer and Smile Direct Club to get an idea of what influencer marketing could look like:



This tactic works well because it's not a brand promoting your product—it's a real person. This makes it feel more authentic and increases awareness of your product.
And if you offer a discount for that influencer's followers, you'll likely see a lot more sales pour in. This is also a great way to track your campaigns to see which are the most successful.
If you want to increase your organic growth on Instagram, you need to be better about engaging with your audience.
Any time you receive a comment, tag, or message (within reason), you should do your best to respond to it. Let your audience know you hear them by responding thoughtfully to anything they have to say to your brand.
(Again, within reason. Spammy messages don't require a response and negative comments should be handled delicately, but don't engage further than you need to. Learn more about reputation management to understand how to handle those situations.)
Next, try creating highly-engaging content that entices comments and other responses.
One great way to do this is through your Instagram stories. Because there are so many fun stickers to use, it's a great way to get your audience to interact more with your content.
Create polls and quizzes, add question stickers for AMAs (Ask Me Anythings), link to a fundraiser, add a countdown, share links to your product pages, and so much more.
However, more than getting your follower base to engage with your content, you need to engage with their content. Find relevant accounts and start liking and commenting on their posts. This helps get your name out there and increases the chances that someone will find you and follow you.
On Instagram, increasing organic engagement is a two-way street. You need to interact with other users if you want the same on your content.
Your Instagram bio can be up to 150 characters, so you want to make the most of it.
This clearly lets potential followers know what your business does so they can immediately decide whether or not they're interested in following you and purchasing from your business.
In your bio, write a clear description of your business while still including bits of your brand personality.
You also want to include a call-to-action and link to your website. Here's an example from Depop:
Source: instagram.com
Better yet: instead of linking directly to your website, use a link-in-bio tool to create an Instagram-specific landing page that helps increase clicks and conversions.
This will allow you to link out from each of your posts, send followers to a variety of different pages, and make the most of your single Instagram bio link.
Instagram's mobile app offers completely free insights and analytics that help you gauge your post performance and figure out if your posts are resonating with potential customers.
If you have an Instagram business account, you can access your insights by heading to your settings and tapping Insights from the main menu.
You'll be met with a dashboard like this: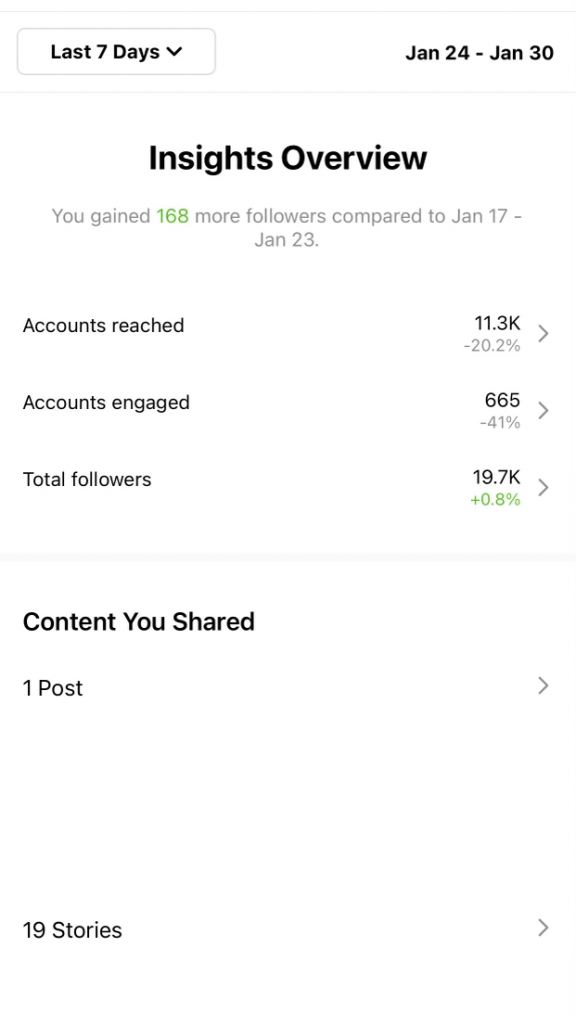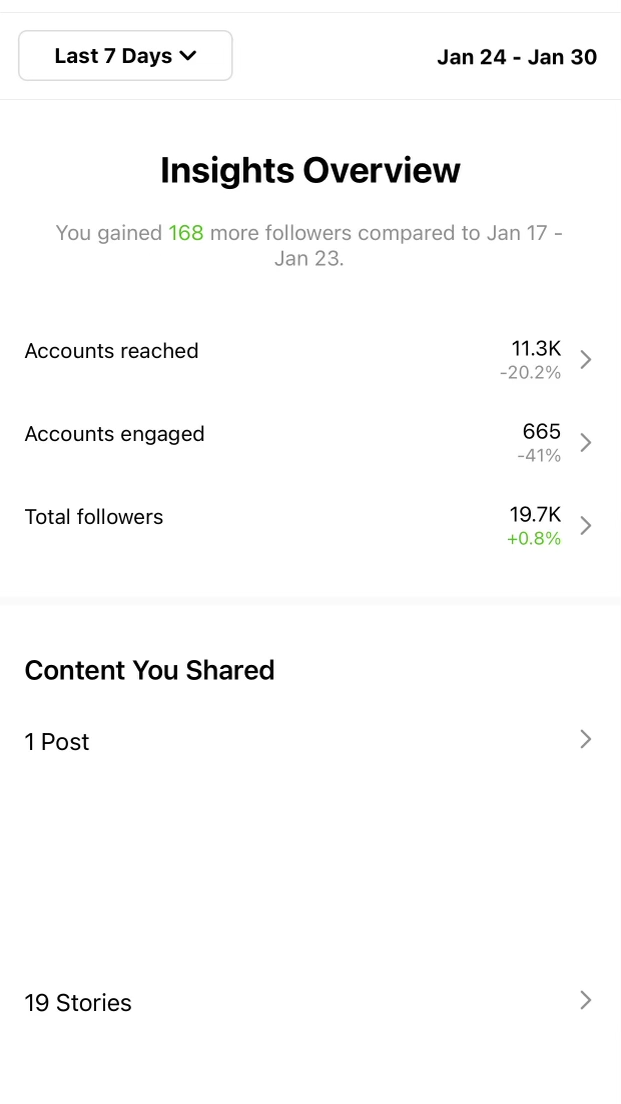 Instagram insights provide in-depth data on how many likes, comments, impressions, reach, clicks, and more that each of your feed posts, stories, or reels receive.
Your post engagement will help you gauge the most popular posts, so pay attention to which content types get the most attention and add more of those to your content calendar.
Your insights will also let you know the main demographics of your Instagram followers, giving you the chance to ensure your content is reaching the right audience. If your Instagram demographics don't match up with your target audience, that says you need to adjust your content strategy.
Your caption is another big part of Instagram growth. It can be up to 2,200 characters, and you want to take advantage of that.
While not every Instagram post should be a novel, using that caption to tell a story can help to engage your audience and get them even more interested in your business and what you have to say.
To really make the most of your caption, start with a good first sentence. Hook your audience and get them to click that "See more" button to read the rest of the caption. Tell a story when your Instagram post warrants it, and always end with some sort of call-to-action.
This will help you get those who read your caption to take some kind of action, whether it's liking your post, leaving a comment, or clicking over to your profile to learn more about your business.
You can include up to 30 hashtags in each Instagram post, and studies show that posts with around 20 hashtags per post perform the best.
This means you want to create a hashtag strategy with a number of highly relevant hashtags that you can pull from and add to each new post or reel.
To find your best hashtags, start typing keywords close to your business and its offerings into the search bar to see which popular hashtags pop up. Use a combination of those hyper-relevant hashtags and some of the most popular hashtags in the world to help your content maximize reach.
If you really want to ramp up your growth rate, you need to have an advertising budget. While your organic growth is important, the ability to promote posts and run ads will help increase growth and reach even more people.
You can create Instagram ads through your Facebook business manager as long as you have your Facebook page and Instagram business profile connected.
There are several different types of ads you can create:
Decide which will add the most to your Instagram strategy and put some of your ad budget behind it. Try A/B testing different ideas and measure your progress throughout each campaign. Put a larger budget behind the highest performing content and pause ads that simply aren't performing.
The first eight strategies are ideal if you're looking for purely organic growth strategies, but having some kind of ad budget will help you grow your Instagram account even faster.
A lot goes into a good Instagram growth strategy. You need to focus on optimizing your profile, creating a variety of content, and writing great captions with hashtags.
But with a little bit of consistency and a lot of creativity—and each of these tactics—you can start increasing followers, reach, and engagement.
Create a business profile, follow a consistent schedule for your content, create engaging captions, add hashtags, and engage with your followers. You may see a slow start, but if you keep all of this up, you'll hit that 1,000-follower mark in no time.
While tactics to grow your Instagram remain largely the same year over year, Instagram reels are a major trend in 2022. To increase your engagement rate and growth rate, you need to invest time in creating and posting reels.
Make sure you're posting consistently and frequently, creating a variety of content types, sharing Instagram reels, and using relevant hashtags. Especially when starting from scratch, hashtags are how your content is going to get found.
While it varies from account to account, the overall best time to post on Instagram is on Thursday from 2-3 PM. Another optimal time would be 11 AM on Wednesday or 10 AM on Friday.
While frequency is important, you also don't want to post too much or the algorithm won't showcase all of your content. Aim for once each day. However, this could be one post and one reel each day because they're different content formats.
Over 30.000 marketing professionals rely on us for their news. Shouldn't you?
Subscribe to the world's #1 influencer marketing newsletter, delivered bi-weekly on a Thursday.
While streamers make it seem like what they're doing is child's play, it's actually…
White papers are highly effective marketing tools when used right. They allow businesses…
Even if you don't think of yourself as a leader, there will come a time when you'll…